Drive rollers play a vital part in helping a roller conveyor system to work properly. Without a drive roller conveyor systems and conveyor belt systems would come to a standstill. But what are they? In this blog, we're going to explore what drive rollers are and how they can benefit your business.
What Do Drive Rollers Do?
Drive rollers are cylindrically shaped and convey products and other items through your workplace. They work through rotating via direct interaction with a motor that ensures the drive rollers run smoothly. Drive rollers, as their name implies, drive the system.
What this means is that the drive roller itself will move, and its movement will cause a chain reaction of movements throughout the system to which it is attached. A conveying system can have many drive rollers, but no matter how many drive rollers the system employs, the rollers are charged with the same task wherever they are placed: keep the conveyor moving.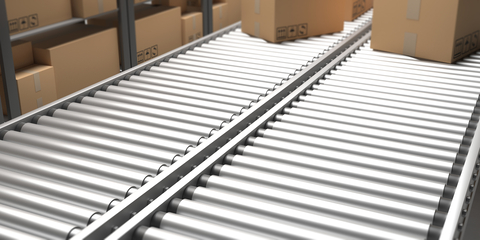 What Materials are Drive Rollers Made From?
Drive rollers are constructed out of metal or various plastics – often they are made of steel, stainless steel or Polypropylene – and can have a rubber coating. The rubber that covers the metal part of the drive roller can be a myriad of different types dependent on the application.
The rubber is an important feature that the drive roller some times requires since it not only has to propel objects forward while bearing a certain amount of weight just like the rest of the conveyor rollers but also because it can protect the integrity of the part itself. The drive roller, being such a crucial part of a well-functioning rolling conveyor system, must be well protected and well maintained.
Drive rollers come in a variety of lengths, weights, and widths. You can also contact a CAS Rollers and see what custom options we may have for you. We can offer customisable drive rollers for your convenience and ease of implementation; being able to tailor your drive roller to your specific application will ensure that your conveyor system will continue to run smoothly.
When choosing whether drive rollers are right for your business, these features are important to consider:
Shape and weight of the items the rollers are transporting.
Dimensions and maximum bearing capacity.
How fast you want to load, transport and place an object on the rollers.
Temperatures & general environmental conditions..
Levels of abrasion as well as general wear and tear.
Exposure to water and other fluids.
Drive rollers are an effective choice in a wide range of industries. From consumer goods manufacturing to printing presses and food production. The right choice of rollers for your industry will depend on your workplace's circumstances and requirements. But drive rollers are a diverse and practical option ideal for a range of uses.
Thank you for reading this month's blog. To find out more about drive rollers and the other rollers CAS Rollers offer, get in touch today. Give us a call 01604 592960 or please feel free to fill in the enquiry form on our contact page today.